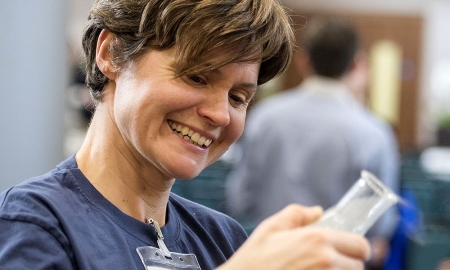 What do you do in your job?
I analyse data on levels of air pollutants in the atmosphere. I link this with modelling how the air travels around the world so I can link emissions of pollution with where it ends up hours, days or weeks later. I also use recent portable smart technologies that can measure air pollution to measure air quality for citizen science.
More about Zoë
What's the best thing about your job?
I get to work with scientists from all over the world as air pollution is a global problem and we often work in large international teams.
What's the hardest thing you've had to do in your job?
I worked in Antarctica, taking field measurements of free radicals in the atmosphere. I had to keep my instrument running 24 hours a day and I ended up not getting much sleep when it was playing up. As there we had 24 hours of sunlight down there, I didn't mind working long hours and then going for a ski on my way to bed.
What did you do at school?
I went to school in Belgium and had to do 10 subjects until I was 18 but my specialism was in chemistry, biology and maths.
What are your 5 top tips for people wanting a job like yours?
– Take any opportunities to do field work
– Don't give up on maths
– Many different science degrees can lead you here, wait to specialise later
– Keep an eye on environmental stories in the news, they teach you about the context of this work
– Your imagination is as important a tool as your intelligence so head towards what ignites your imagination
Inspired by Zoë's story?